Kathi Mullin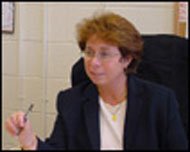 Kathi Mullin is the Special Assistant to the Superintendent for High School Renewal, Boston Public Schools. In this role she leads the Office of High School Renewal (OHSR), the school district's lead entity for driving high school renewal, including the development of small schools and small learning communities and overall school improvement. The OHSR ensures that new school designs and large school conversions are feasible, and provides extensive technical assistance and on-site coaching to new schools. The OHSR also assists the BPS central office to support high school redesign and ensures that facilities, students and staff assignment, and other cross-cutting issues are addressed quickly and effectively.
Kathi is the former Director of School to Career/Technical Vocational Education in Boston. She blends the best practices of high school reform, vocational education, technology and School to Career to improve educational experiences for all students. Certified in over five primary content areas, including special education, administration, and secondary school principalship, she is a key driver behind Boston's current high school restructuring and educational reform efforts.
Kathi founded Boston's nationally recognized STRIVE Program, a transition program for students with disabilities. Recipient of the Henry L. Shattuck Award for Excellence in Public Service, the Innovations in Education Award, Boston Private Industry Council Achiever Award, and the City Excellence Award Innovations in Education for TechBoston, this dynamic leader was instrumental in developing TEACHBoston, a program and career pathway that trains BPS high school students to enter the teaching field. As a visiting faculty member at local colleges and member of Massachusetts Higher Education Advisory Committee, Kathi recently participated in Harvard University's "Strategic Planning for Non Profit Managers."
Kathi can be reached at kmullin@boston.k12.ma.us.

Presentations by Kathi Mullin
[Note: Be patient downloading these files --it can take 2-5 minutes, even on a high speed connection]