Dongguan, China

[Note: This is an archive page, last update #17: August 22, 2004. I developed this page at a time when few people knew about or understood the extent of offshoring and globalization. There are now many excellent sources for this information. -- Bob, bobpearlman@mindspring.com ]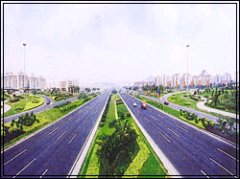 Dongguan, in Guangdong Province, in South China, is one of the world's fastest growing cities. After the economic reforms of 1979, Dongguan grew from 1 million people to more than 6.5 million today. It's the home to 15,000 international companies, the center of the world furniture industry, and one of the great centers for the manufacturing of PC components.
Dong-guan is situated in the south-middle part of Guangdong province and the east coast of Pearl River Delta, facing Shenzhen and Hong Kong in the south and neighboring Guangzhou in the north. It is the most prosperous economic region in southern China with 1.6 million local population, 6 million population from outside the province, and approximately 700,000 people from Hong Kong, Macao, and Taiwan.
For the past decade, Dongguan has been highly ranked among the top cities in China exporting the most goods particularly the United States. In the year of 2002, it ranked 7th in overall municipal competitiveness in China, ranked 3rd in goods exported, behind Shanghai and ShenZhen, with approximately $2.8 billion (USD) worth of goods exported worldwide. It now has about 25,000 manufacturing enterprises, 10,000 of them are computer related manufacturers, with total production that equals to 40% of all international computer part market.

In Dong-guan, more than 14,000 foreign corporations have invested in various industries. Since the late 90s, conventional industrial corporations began manufacturing consumer commodities, which lifted the local economy and household wealth level. Currently, many Fortune500 companies have established business bases or factories to consolidate their positions for present and future global competition.
However, Dong-guan is also a key place for investment in small and medium size businesses, comparing with Shanghai, Beijing and Shenzhen, due to its unique city development, supports from city authorities, overall business costs, availability of land, water, electricity and demographic structure.
Currently, the core development of Dong-guan city is the Songshan Lake Science & Technology Industry Park. This park is designed for various technology industry business headquarters, R&D centers and factories in small to large scale. The park will be landscaped and harmonized with Songshan Lake's natural beauty--surrounded by mountains, trees and lake. It is an industry park, which embodies residential housing, schools, restaurants, entertainment centers and administrative organizations, with a contracted, fully self-operated and independent modern business city plan.
If you want to know more about Dong-guan city or the Songshan Lake Industry Park project, please contact Wayne Chu at US-AIC for more information or visit www.ssl.gov.cn.
Sources: Alliance Investment Consultants Inc., DongGuan Bureau Of Foreign Trade & Economic Cooperation
Alliance Investment Consultants Inc.
DongGuan Bureau Of Foreign Trade & Economic Cooperation
Dongguan Foreign Investment Promotion Center