Napa New Technology High School (NTHS)
*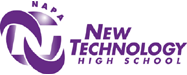 NTHS Learning System, Key Links, Articles, Replication
Napa New Technology High School (NTHS) opened in 1996 serving students in Grades 11-12 from two feeder high schools. 200 students attend the school for 1/2 a day, but most hang around after school. Napa New Tech may be a remodeled elementary school facility, but it looks like a workplace, not a school. NTHS Director and Principal Mark Morrison calls it " a high-tech, high-touch learning environment."
Technology is integrated into every class, courses are interdisciplinary and project based, and each student graduates with a Digital Portfolio. Students take a course in New Media, which gives them the skills to use powerful authoring and presentation technologies in all their work. In the senior year, each student does a year-long internship in a local business, many of them technology or related companies, and also completes an on-line Internship Project "Work Summary" about their experience that will become part of their professional digital portfolio.
Napa New Technology High School* is the best example of a Target Tech 4 -- Replication and Dissemination school site, with its Learning System that supports 21st Century knowledge and skills.
NTHS Learning System
The NTHS Learning System comprises the school's curriculum, standards, assessment tools, and reporting tools, all online on a common technology platform. To see a Virtual Tour of the NTHS Learning System, go to http://www.newtechfoundation.org/nthlearning.html. You will need a broadband connection to download it, which will take 2-3 minutes. If you use Internet Explorer, it will download and play in your browser. If you use Navigator, save it to your hard drive and play using PowerPoint.

Key Links
New Technology Foundation (NTF) Web Site
The New Tech High School Model -- PowerPoint Presentation (

, 4 MB)
NTHS Student Digital Portfolio page (Present) and Digital Portfolios (Past)
[Also see articles on the NTF web site.]
New Technology High Schools, USA
UK Knowledge Share on "New Technology High Schools, USA", by Michael Buchanan, Place Group
Napa Valley's Newest Export
Project-based instruction and an open school culture have made New Technology High School a celebrated model for replication. Scholastic Administrator, November-December, 2003.
Project-Based Learning: A Primer
When students are challenged to get to work solving real-life problems, the whole world becomes a classroom. by Gwen Solomon, Technology & Learning, January 2003
High Tech Haven
New Technology High School in California's Napa Valley provides at least one computer for every student. But that's not the only reason teenagers choose to attend this school. Education Week, May 29-June 5.
New 'high-tech' high schools aim to transform learning
By Cara Branigan, Assistant Editor, eSchool News, December 18, 2000

If We Can Do It, Anyone Can!, Converge Magazine, October 1998
Side-By-Side, Converge Magazine, April 2000
Education is the focus at high-tech high, CNN Interactive, January 20, 1997
Desktop PCs bring fast times to New Tech High, Government Computer News, May 2000
Technology Works! Technology Success Stories: Napa New Technology High School, The Software and Information Industry Association, 2000
From High Tech High School to Hot Jobs, techtv, April 7, 1999
Information about NTHS for the Committee, Congressional Hearing, The Committee on Education and the Workforce, at New Technology High School, January 29, 1997
New American High School recognition, U.S. Department of Education

Replication
Napa New Technology High School is one of three new small high schools that have been funded by the Bill and Melinda Gates Foundation to support their replication in ten sites each across the United States. If your school, district, or community is interested in replicating this model, contact:
Susan Schilling
Director of Replication
707-253-4287
SSchilling@newtechhigh.org
* Full Disclosure: Bob Pearlman is the Director of Strategic Planning for the New Technology Foundation(NTF). Under a grant from the Bill & Melinda Gates Foundation, NTF helps new schools replicate the New Technology High School Model.