School-to-Career
No reform in education has accomplished as much and received as little recognition as School-to-Career (STC). Launched by the Federal Government in 1994, STC has enhanced the high school experience for millions of young people and brought about about more positive business involvement with schools and with young people than any education reform in U.S. History.
Today, at the start of 2002, the federal law has sunset and few states have taken up the torch. STC partnerships and intermediary organizations are either in their last year of federal-to-state pass through funding or have used up their five years of funding.
Great educators and business leaders across the country are working to sustain this important reform. If the Federal Government and the states don't rise now to the challenge, they will likely need to "re-invent" STC in the coming years.
Research
Accomplishments of STC--The Research
STC has led to increased college-going rates, retention rates, and other indicators of post-secondary success, according to longitudinal research to date.
NSTWO Web Site Archive
National School-to-Work Office (NSTWO) Web Site Archive
Thanks to the Wayback Machine, a service from the Internet Archive and Alexa Internet, the outstanding web site developed by the National School-to-Work Office (NSTWO) is now archived at http://web.archive.org/web/20011127035903/http://www.stw.ed.gov/. The Wayback Machine allows people to access and use archived versions of stored websites.
Best Intermediary Organizations
The Boston Private Industry Council
The Boston Private Industry Council is a nonprofit workforce intermediary that builds connections between employers, labor, schools, training providers, and public agencies. We bring these groups together to help employers find and train workers, to help young people prepare for success, and to help adults locate appropriate training and job opportunities.
The Bay Area School-to-Career Action Network (Internet Archive)

The Bay Area School-to-Career Action Network (1997-2004) brings together regional and statewide business, labor, education, and local School-to-Career partnership organizations. This powerful coalition works to provide students with powerful learning--in and out of school--that better prepares them for success in college, careers and life.
The Intermediary Network
Launched in 1999, a national network of school-to-work intermediaries serves as a voice for intermediaries throughout the country.
CalSCAN (Internet Archive)


CALSCAN (2001-2004) is a coalition of organizations across California dedicated to the success of school-to-career efforts. It is a "grassroots" organization that is the result of team work and leveraging of resources across organizations.
Marin County School to Career Partnership


Marin County STC Partnership is one of the longest running partnerships in the nation and their website contains valuable resources for others. See especially the forms section.
Return-on-Investment
NELC ROI study "Intuitions Confirmed...The Bottom Line
Return on School-to-Work Investment for Students and Employers"
Autodesk Case Study
This case study originally appeared in a report published in 1997 by the American Society for Training and Development, in collaboration with the National Employer Leadership Council (NELC). The report, entitled Learning and Earning: An Employer's Look at School-to-Work Investments (coauthored by Lauri J. Bassi, Theresa Feeley, John Hillmyer, and Jens Ludwig), was based on data gathered by field researchers working with eight U.S. employers offering student internships, apprenticeship programs, or paid part-time employment. Along with Autodesk, Inc., these firms included BellSouth, Charles Schwab, Crown Auto World, Eastman Kodak, McDonald's, Siemens, and Sutter Health.

The report was subsequently published by the NELC with the assistance of the National Alliance for Business and the National School-to-Work Office under the title Intuitions Confirmed: The Bottom-Line Return on School-to-Work Investment for Students and Employers.
For more information on NELC, now disbanded, visit http://web.archive.org/web/20040128065551/http://nelc.org/.
Changing the High School Experience: Internships
[Note, 2009: Great work was done on promoting student internships from the mid-1990s through the end of the School-to-Work Act circa 2003. Since 2000, despite the demise of some of these intermediary organizations, these practices have been incorporated in the best new secondary school designs.]
The Academy X Internship Experience
Watch and listen to the stories students tell about their experiences in the Academy X high school internship program. See the enthusiasm and interest these young people have in learning. Learn how this model high-performance internship program challenges students to meet high standards and develop personal qualities that will help shape their future for success. This video, made by Drake student Matt Cohen in 2000 as his internship with film producer Fred Cohen (His father), is one of the best videos on high school internships ever made.
Video: Workplace Learning Experience at Envision Schools produced by a City Arts and Technology student Jasmine Kamariotis (2008).
The Boston Private Industry Council
The Bay Area School-to-Career Action Network (Internet Archive)
CalSCAN (Internet Archive)
Mentors
International Telementor Program
BeAMentor

Teacher Externships
The IISME Summer Fellowship Program places San Francisco Bay Area K-14 teachers of all subjects into high-performance work sites for the summer. Teachers complete a project for their sponsors and are paid $7,000 for their work. Teachers also spend time focusing on ways to transfer their Summer Fellowship experience back to their students and colleagues. In the past 20 years, IISME has offered 1,824 Summer Fellowships to 1,059 individual teachers.
LIFT2

Note (2013): LIFT2 operated in Massachusetts from 2002-2008. It is no longer active. LIFT2 here links to the Internet Archive. LIFT2 Info Sheet (2007), LIFT2 Industry Partner 1, LIFT2 Industry Partner 2.
Leadership Initiatives for Teaching and Technology(LIFT2) is an innovative professional development model in Eastern Massachusetts aimed at strengthening the classroom practice and content knowledge of teachers of science, technology, engineering, and math (STEM). Led by the Metro South/West Regional Employment Board's Technology Initiative, it is designed to improve student interest and performance in STEM curriculum by offering teams of middle and secondary school teachers a fifteen-month program that includes:
5+ week summer work externship in a 21st Century industry setting
a nine-credit graduate professional development course
academic and school leadership team development
Houston A+ Challenge Teacher Externships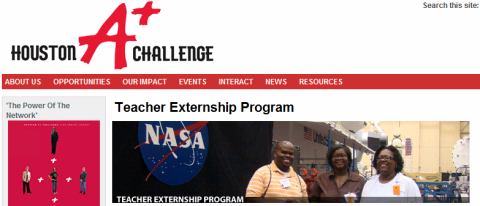 The City of Houston partners with the Houston A+ Challenge, school districts, community organizations and businesses to help provide Houston-area teachers professional experience in their teaching fields. This partnership helps make students' learning more relevant to the 21st century workforce.

See Videos for Houston Teacher Externships.

The University of Ariziona MASTER-IP (Industry Partnerships) Program integrates paid summer internships in local businesses around Arizona together with focused professional development activities. These activities are based on the STEM disciplines as well as teacher education & training. For both Master's program candidates and summer teacher PD. Business partner information is found here.
Articles