Profession-Based Learning
Blue Valley Center for Advanced Professional Studies (CAPS) in Overland Park, KS, and Vantage, the Minnetonka, MN, Advanced Professional Studies, provide students the opportunity to deeply explore professional areas of interest through a profession-based, inquiry learning method. Blue Valley CAPS, launched in 2009, is the model for Vantage, launched in 2013.
School-to-Career Home | Internships | Teacher Externships | Mentors
Updated: September, 2016
Center for Advanced Professional Studies (CAPS) programs are nationally recognized, innovative high school programs. Students fast forward into their future and are fully immersed in a professional culture, solving real world problems, using industry standard tools and are mentored by actual employers, all while receiving high school and college credit. CAPS is an example of how business, community and public education can partner to produce personalized learning experiences that educate the workforce of tomorrow, especially in high skill, high demand jobs.
CAPS provides students the opportunity to deeply explore professional areas of interest through a profession-based, inquiry learning method. CAPS is driven by the changing workforce needs of industry, therefore instructors and CAPS business partners collaborate to develop coursework. CAPS curriculum is dynamic, constantly evolving to follow industry trends and market changes using a copyrighted rapid prototyping curriculum development process.

About

Developing relationships with business, industry and higher education partners is critical to the success of any CAPS program. The CAPS Network is designed to create rich and meaningful experiences for students, as well as partners. Programs that partner with the CAPS Network share best practices and connections with professional partners, post-secondary institutions and students. See the Five Guiding Principles: Profession-based Learning; Responsiveness; Self-Discovery and Exploration; Professional Skills Development; and Entrepreneurial Mindset.

Articles

Videos

Clifton Taulbert's observations after spending a day at CAPS.

What do experts say? Dr. Richard Light Harvard University

Blue Valley Southwest Wolf Byte CAPS feature

What is CAPS? Education Week feature

CAPS Eduvision TV (collection of videos)
VANTAGE, Minnetonka's Advanced Professional Studies program, provides junior and senior students with real-world experiences in professional settings, where they can learn and develop skills for high-demand careers. Transforming the high school experience, this innovative program is a year-long, two- or three-credit course of study where students learn through case studies, partner-directed projects, and immersion in a profession-based program.
About

4350 Baker Road, Minnetonka, MN 55343, 952-224-0380
Contact:
VANTAGE Areas of Study:

Twitter: @tonkavantage
Facebook: tonkavantage

Articles

Videos
3. CAPS National Network (Map of National Network Member Schools)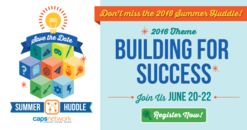 2016 CAPS Summer Huddle, Summer Huddle Video
The CAPS Summer Huddle is a convening of K-12 stakeholders interested in innovations in education and approaches to authentic, profession-based learning strategies. Attendees are provided opportunities to receive rich professional content, the ability to participate in relevant "unconference" discussion sessions, and instructional resources through a teacher academy. The 2016 Summer Huddle on June 23, 2016, attracted over 160 people from across the country, creating a dynamic networking opportunity. CAPS will be posting material from the 2016 CAPS Summer Huddle shortly.