Articles by Elliot Washor on

Next Generation Learning
Note to readers (February, 2012): When I first posted this webpage circa 2003, Elliot Washor's writings were relatively unknown and unavailable. Since that time, Elliot Washor and his writing partner, Charles Mojkowski, have been among the most prolific writers today on 21st Century Learning. The Big Picture Learning organization, which Elliot co-founded with Dennis Littky, today does a great job bringing his writings to the public on their website. I am updating this page now for visitors to my website, however it is easy to follow Elliot today through the Big Picture website, his columns in the Huffington Post, his blog, and on twitter. The authors are just completing a book on student disengagement and dropouts to be published in September, 2012,by Heinemann Press. -- Bob

Updated: February, 2012
It's Deeper Than You Think, By Elliot Washor and Charles Mojkowski, Huffington Post, February 2, 2012
What Employers Don't Know About Their New Hires, and Why by Charles Mojkowski and Elliot Washor, Techniques, October 2011
The Knowledge Funnel: A New Model for Learning by Elliot Washor and Charles Mojkowski (Part 1 of 2), Edutopia Guest Blog, April 5, 2011. Part 2.
Making Their Way: Creating a Generation of "Thinkerers", Huffington post Blog, August 25, 2010.

High School Education: Multiple Pathways & Student Choice, The Huffington Post, July 26, 2010

Preparing Manufacturing's Next-Generation Workforce Through Revitalized Public/Private Partnerships, Metal Forming Xtra Magazine, July 22, 2010 *
The Final Score Is Not the Final Score, July 20, 2010 *

Stemming the Tide Is Not Enough,The Huffington Post, July 1, 2010
Going, Going, Gone, The Huffington Post, October 28, 2009
Thoughts on Innovation, The Huffington Post, October 22, 2009
At the Core of the Apple Store: Images of Next Generation Learning, The Huffington Post, May 7, 2009 **
Data: Now What? Data Beyond High School, Educational Leadership, December 22, 2008 **
Living Literacy: A Cycle of Life to Text and Text to Life, EdNews, June 5, 2008*
Perspectives on Relevance and the Quest for Rigorous Student Learning: Balancing Life to Text and Text to Life, Curriculum Leadership, March 28, 2008 *
Seeding the Edge of Career and Technical Education, Techniques, October 1, 2007
Small Schools as Multiple Pathways to College, Career, and Civic Participation: Can they Balance the Individual and Collective Aims of Schooling?, by Karen Quartz and Elliot Washor, UCLA's Institute for Democracy, Education, & Access, February 1, 2007
The College Juggernaut: Just Who Is It That Needs to Get Ready?, Education Week, January 17, 2007 *
Creating New Steps: Innovating from the Edge to the Middle, Phi Delta Kappan, June 1, 2006 *

What Do You Mean By Rigor?, by Elliot Washor and Charles Mojkowski, January 1, 2007

National Summit on School Design, Great Schools By Design, October 1, 2005
Dollars & Sense II: Lessons from Good, Cost-Effective Small Schools, KnowledgeWorks Foundation, October 1, 2005

Standards and Variation, Education Week, September 14, 2005 *
* by Elliot Washor & Charlie Mojkowski
** by Elliot Washor & Charlie Mojkowski & others
Innovative Pedagogy and School Facilities (PDF File) by Elliot Washor, published by DesignShare. "DesignShare's publication is based on Elliot Washor's doctoral dissertation at Johnson & Wales University, Providence, Rhode Island, entitled Translating Innovative Pedagogical Designs Into School Facilities. This 100-page book is a must-read for anyone interested in beating the odds to create an innovative school."
Accountability in Small Schools By Elliot Washor  and Charles Mojkowski, Education Week, April 9, 2003.

Dollars & Sense: The Cost Effectiveness of Small Schools (PDF File) concludes investing tax dollars in small schools is good economic sense. From the KnowledgeWorks Foundation, 2002. By Barbara Kent Lawrence, Ed.D., Steven Bingler, Barbara M. Diamond, J.D., Bobbie Hill, Jerry L. Hoffman, Craig B. Howley, Ed.D., Stacy Mitchell, David Rudolph, Ed.D., and Elliot Washor.
When Learning Matters - Using Learning Plans To Educate One Student At A Time, chapter from the new book Personalized Learning: Preparing High School Students to Create their Futures.
Reforming High Schools: Creating Sensible Places and a Sense of Place, By Elliot Washor and Charles Mojkowski.
Redesigning High Schools as Community Learning Centers: Creating a Sense of Place and Sensible Places, Message to Mayors of Big Cities, By Elliot Washor and Charles Mojkowski.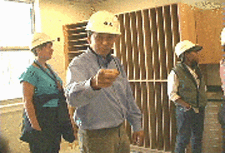 "Building Knowledge" Tour: Big Picture Co-Director Elliot Washor takes you a two-minute tour of the new, nearly completed Met Schools.
Elliot Washor is Co-Director of the Met School and the Big Picture Company. Charles Mojkowski is Associate Professor, Doctoral Program in Educational Leadership, Johnson & Wales University.
Elliot Washor co-founded and co-directs The Big Picture Company with Dennis Littky, and is the co-founder of The Met Center in Providence. He has been involved in school reform for more than 20 years as a teacher, administrator, and video producer, and recently received his Doctorate in Education from Johnson and Wales University in Providence, RI. Elliot has taught all levels from kindergarten through college, in urban and rural settings, across all disciplines. He has served as a consultant to schools throughout the U.S. and Europe. At Thayer High School, his professional development programs won an Innovations in State and Local Government Award from the Ford Foundation and the Kennedy School of Government at Harvard. Elliot has an M.A. in education from Harvard University. You can e-mail Elliot at ewashor@bigpicture.org.