High Tech High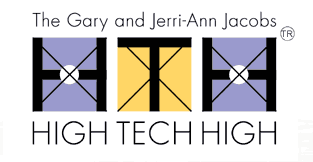 San Diego's High Tech High (HTH) opened in 2000 and is now in its second year. The school was conceived by and launched by a coalition of over 40 public and corporate partners led by Qualcomm that were part of a San Diego Chamber of Commerce task force. The task force met over two years focusing on developing a new high school education commensurate with San Diego's transformation from a military-dominated economy to an emerging high tech regional economy, led by telecommunications and biotechnology.
High Tech High is a public charter high school with a diverse student population that mirrors the San Diego Unified School District. The school opened with 200 students in 9th and 10th grades, now has 300 students, and will reach 400 students in grades 9-12 at full enrollment next year.
HTH brings to life its design principles of Personalization, Intellectual Mission, Adult World Immersion, and Performance-Based Student Work & Assessment through its size and school organization, its facilities, its program, and its technology.
When you walk into High Tech High you feel like you're in a workplace. The main section of the school, the Great Room, has a very high ceiling above the student workstation suites. Classrooms, which HTH calls seminar rooms, look different as well, with flexible furniture and Smart Boards on the wall. Not a lot of teachers are presenting in this environment. Mostly it's the students who present their work and ideas.
Four physical structures provide a sense of place and identity to HTH students:
Workstation suites, where they have their own personal computer.
Project Studios, where as part of a team they can plan and construct 3-D models
Construction Labs (Biocom Technology Lab, Animation Lab, Engineering Lab)
Meeting/presentation spaces for visiting lecturers, mentors, and site supervisors
For More Information on High Tech High:
Replication
High Tech High is one of three new small high schools that have been funded by the Bill and Melinda Gates Foundation to support their replication in ten sites each across the United States. If your school, district, or community is interested in replicating this model, contact:
Larry Rosenstock
CEO/Principal
619-243-5011
lrosenstock@hightechhigh.org