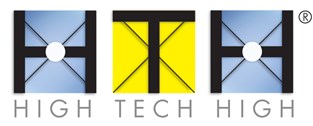 Most Likely to Succeed Film; MLTS Next Step Prompts; MLTS Book; MLTS Other Resources
Updated: October, 2016
San Diego's High Tech High (HTH) opened in 2000. The school was conceived by and launched by a coalition of over 40 public and corporate partners led by Qualcomm that were part of a San Diego Chamber of Commerce task force. The task force met over two years focusing on developing a new high school education commensurate with San Diego's transformation from a military-dominated economy to an emerging high tech regional economy, led by telecommunications and biotechnology.
High Tech High is a public charter high school with a diverse student population of 400 students in grades 9-12 that mirrors the San Diego Unified School District. In 2016-17 there are now 13 High Tech schools in the San Diego Metro Region, including 4 elementary schools, 4 middle schools, and 5 high schools. These schools are clustered K-12 at the central campus in Point Loma, in San Marcos (North County), and in Chula Vista.
HTH brings to life its design principles of Personalization, Adult World Immersion, Common Intellectual Mission, amd Teacher as Designer though its size and school organization, projects, program, learning environments/facilities, and its technology.
High Tech High has inspired innovative education practices throughout the U.S.A. and the world. See below the terrific PBL Handbook published by the UK's Innovation Unit, Work That Matters: The Teacher's Guide to Project-based Learning.
High Tech High has also done an extraordinary job of sharing its practices with educators around the world, though its exemplar Student Projects library, its tours, the annual Deeper Learning conference, and its Graduate School of Education Residencies and Institutes.
For More Information on High Tech High:
HTH GSE Fall Residency - Project Design for Deeper Learning, Wednesday, October 12 through Friday, October 14, 2016, San Diego, CA, High Tech High

This residency is tailored for educators and school planning teams who will dive deeply into project based learning and the High Tech High design principles. We emphasize and explore how equity in schools can be achieved through well-designed PBL experiences. Workshops feature the development, analysis and critique of PBL plans and design principles. Participants engage with HTH teachers and students about their projects and learn ways to support both students and colleagues through processes of project tuning and critique. The Fall Residency is geared towards experienced educators and those new to project-based learning. Register here. There is also an Improvement Science Pre-Conference on October 11.

Also see Adult Learning at High Tech High Residencies and Institutes and the 2015 Summer Institute Program (PDF).
Deeper Learning 2017, March 29-31, 2017, San Diego, CA, High Tech High

Deeper Learning 2016, March 23-25, 2016: DL2016 is the 4th annual gathering of powerful educators focused on creating more opportunities for students to learn deeply. At DL2016 you will: Experience deeper learning for yourself through deep dives, interactive workshops and an innovate makerspace; Connect with powerful educators who care deeply about preparing students for college and the careers of tomorrow; and Create new ideas, synergies and tools to implement and scale deeper learning. View the DL2016 program and theDL2015 program; Sign up for the Deeper Learning MOOC; Join the Deeper Learning Comunity on and Follow the twitter feed #DeeperLearning.