Featured 21st Century Learning Videos -- April 2014: Innovation Labs and Makerspaces
The Ross School and Newton Public Schools are two of the 13 schools featured in the new web profiles of
Innovation Labs and Makerspaces
in 21st Century schools and school libraries.
Recently Featured 21st Century Learning Videos
What should schools look like?

PBL Pioneers David Thornburg, Norma Thornburg, and Sara Armstrong have produced a terrific set of video-based PBL inquiry starters across the curriculum, now available for

free download

. See more about new learning environments

here

.

Feeding the hungry and teaching others to do the same - Profile of outstanding

Tech Valley High School

STEM teacher Leah Penniman, WNYT, 11/7/13
Previously Featured 21st Century Learning Videos
New!
April, 2014: Innovation Labs and Makerspaces
March, 2014: 2014 PBL Summer Training Institutes and 21C Spring and Summer Conferences
February 2014: An Inspiration for Today's Innovators, Review of Becoming Self-Directed Learners: Student & Faculty Memoirs of an Experimenting High School 40 Years Later, by James A. Bellanca (Editor), Arline Paul (Editor), et al. Review by Bob Pearlman, February 12, 2014. Buy at Amazon.

January, 2014: 50 free PBL Inquiry Starter Videos from David Thornburg and Knights of Knowledge and profile of David Thornburg's work
January, 2014: Vantage, Minnetonka's Advanced Professional Studies Program
November, 2013: Review of Leaving to Learn: How Out-of-School Learning Increases Student Engagement and Reduces Dropout Rates, by Elliot Washor and Charles Mojokowski. Review by Bob Pearlman.
October, 2013: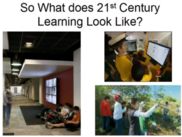 , a 21C Professional Learning activity for you and your colleagues
August, 2013: Bob's Web Redesign Project
May 2013: Wooranna Park Primary School's Best Educational Practices videos. Web profile of Wooranna Park Primary School, Melbourne, Australia.
May 9, 2013: President Obama visits Texas technology school, Video of President's speech to Manor New Technology High School
January, 2013: Recommended PBL Trainers, Training Institutes, and PD Services Organizations
January, 2013: Autonomous Schools and Innovation Zones
November, 2012: STEM -- Innovative STEM Middle Schools / Innovative STEM High Schools / STEM Learning Networks and Resources
September, 2012: What's Working? Lessons from pioneer 21st century school districts, Part 1. P21 blog by Bob Pearlman, September 17, 2012. Part 2, September 24, 2012.
July 2012: New book: Transforming Learning through 21st Century Skills: The Who Took My Chalk?™ Model for Engaging You and Your Students, By Lydotta M. Taylor and Jill M. Fratto. Foreword by Bob Pearlman.
April, 2012: Recommended Handbooks and Guides on Project-Based Learning (PBL)

February 2, 2012: The Future of Science Education: STEM and Workforce Readiness - Webinar and Video - features Project-Based Learning with interviews of Bob Pearlman, Suzie Boss, Thom Markham, Megan Pacheco, and Dan Liebert.
December, 2011: Wooranna Park Primary School, Melbourne, Australia, and Wooranna Park's Stimulating Learning Platforms
November, 2011: Book Review: Spotlight on Technology in Education (Harvard Education Press, 2011), by Bob Pearlman, Educational Technology, November-December 2011)
October, 2011: 21st Century Elementary Schools
Updated September , 2011: Innovative 21st Century Skills School Districts
September, 2011: Innovative STEM Middle Schools and Innovative STEM High Schools
July, 2011: School Environments: Transforming Learning Spaces, The Whole Child Podcast, with Bob Pearlman, Kristin Cuilla, and Luis Torres.